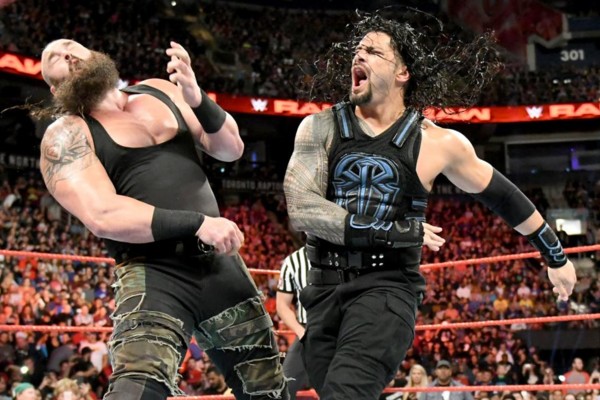 Just a week removed from SmackDown Live!'s Hell In A Cell, WWE have elected to trot out the (topless) mesh yet again to promote one more go around of the sensational Roman Reigns/Bruan Strowman combination.
The two have been responsible for some of the red brand's best efforts of 2017, and a caged rematch feels like a dependable placeholder ahead of The Shield's presumably triumphant pay-per-view return at Sunday's Tables, Ladders and Chairs supercard.
What, you weren't aware?
Indeed, WWE will present yet another Sunday special despite superlative showdowns between The Usos, The New Day, Kevin Owens and Shane McMahon still lingering in the minds eye of most fans that appreciate the stunt-n-bump nature of the brawls.
Its perhaps why the show has felt somewhat overlooked until last week's explosive coming together for 'The Big Dog', Dean Ambrose and Seth Rollins. But after dedicating mammoth portions of the show to the terrifying triumvirate last week, the company would be well served to flesh out the remaining issues currently at large.
With so many of the brand's titles trapped in the handicap main event, the stakes of the other battles need to made as artificially high as Bray Wyatt's 'Sister Abigail' voice. About that metamorphosis…