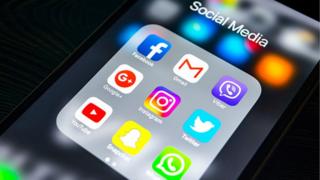 Radical changes are being proposed to the law of defamation in Scotland to take into account the growth of the internet and social media.
It follows a three-year study by the Scottish Law Commission (SLC) into legislation which has not been revised for more than 20 years.
The commission said the changes would bring Scots Law up to date, but would still protect freedom of expression.
It has published a draft bill for MSPs to consider changing the law.
The SLC said this was the most substantial proposed reform of defamation law in Scottish legal history and would modernise the law for the age of the internet and social media.
Defamation law protects individuals from having their reputation unfairly tarnished.
But its last revision was in 1996, in the earliest days of the internet.
The SLC report, which followed consultation with human rights and media groups, including BBC Scotland, said developments in social media mean it is now easier for people to communicate more widely than ever.
The commission chairman, Court of Session judge Lord Pentland, said without legal controls, defamatory statements can spread swiftly.
'Unfairly tarnished'
"Defamation law potentially affects everyone and getting it right is crucial for the type of society we want to live in," he said.
"With the phenomenal growth in use of the internet and social media it is possible for everyone to communicate far more easily and more widely than was the case in the past.
"But faster and easier ways of communicating have thrown up new challenges for the law.
"The absence of editorial controls can sometimes allow reputations to be unfairly tarnished in the eyes of a mass audience."
But the commission recognised any new law must strike the right balance between freedom of expression and protecting reputations.
It said a defence of public interest should be be enshrined in law, to allow 'fearless journalism' to thrive.
And, in a recognition of the changing nature of 'publication' it proposed there should be a new rule, meaning only the originator of a statement could be sued. Those re-tweeting a statement, for example, would not be at risk.
And among its 49 recommendations, other suggestions include:
It should no longer be possible to sue where a defamatory statement is made only to the person who is the subject of it and no-one else – in that case there cannot realistically be any damage to reputation.
Where a statement has not caused serious harm to reputation there should be no right to sue. This is to prevent defamation actions being used as a weapon by the rich and powerful to try to silence unwelcome criticism.
Ending the current three-year timescale to bring a defamation action which the SLC said was too long. Where there has been genuine damage to reputation this should become clear quickly, it said.