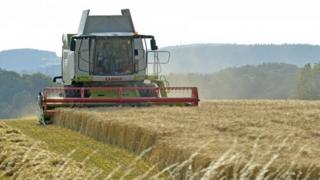 UK farmers are to receive the same level of subsidies they receive from the EU for five years after Brexit, the government is to promise.
Environment Secretary Michael Gove will tell farmers the current system of payments based on the land they own will continue until March 2024.
The subsidies – now £3bn a year – will then be replaced by a system to encourage environmental improvements.
Meanwhile, a report warns Brexit trade deals could threaten UK food security.
MPs and peers in the All-Party Parliamentary Group on Agroecology (AAPG) say ministers must ensure famers are not undermined by future trade deals which permit imports of food produced with lower welfare or environmental standards.
Mr Gove, who has promised that standards would not be compromised post-Brexit, is due to address two farmers' conferences in Oxford later.
His speech comes ahead of the government's agriculture plans being published this spring.
Detailing how the European Union's Common Agricultural Policy (CAP) will be replaced after Brexit, Mr Gove will say taxpayers' money should be used to boost public access to the countryside, and be spent on infrastructure and supporting rural communities.
He will say the CAP is "unjust, inefficient and drives perverse outcomes".
Its subsidies will be replaced by payments for planting woodland, boosting wildlife, improving water quality and recreating wildflower meadows.
'Best possible deal'
The AAPG report says post-Brexit trade deals could pose the biggest peacetime threat to the UK's food security.
According to the group, the import of cheaper foods that are produced to lower safety and welfare standards could place UK farmers at a disadvantage.
"To compete with these lower prices, domestic farmers could seek to tighten their margins and therefore cut corners with regards to environmental regulations," the AAPG said.
"If the UK is unable to protect its farmers from being undermined by lower welfare imports, farmers are likely to resist improvements and may even press for UK standards to be lowered.
"There is a real danger that enhanced compatibility of regulations would make it very difficult for the UK to improve its standards in areas such as animal welfare, food safety and pesticide use and residues."
It comes amid concerns that a post-Brexit deal with the US could include chlorine-washed chicken and hormone-fed beef.
The use of certain growth hormones in cattle-rearing is legal in the US but in 1988 the EU banned the use of several major growth promotion hormones, which it said posed a potential risk to human health.
In the US, it is legal to wash chicken carcasses in chlorinated water to kill germs – but this has been banned in the EU since 1997 on welfare grounds.
In relation to chlorine-washed chicken, Mr Gove has said the UK should not allow these imports in a post-Brexit trade deal with the US, but Trade Secretary Liam Fox has said the practice was "perfectly safe".
A Defra spokesman said: "We are committed to securing the best possible trade deal when we leave the EU – one which includes a comprehensive free trade deal with the European Union and, in due course, the chance to negotiate new free trade agreements with other countries."