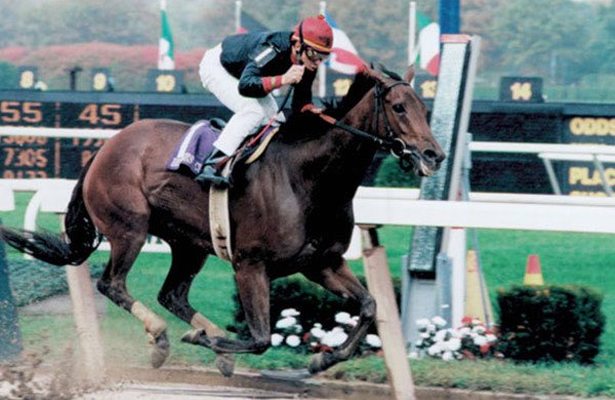 Photo: Courtesy of Claiborne Farm

Claiborne Farm has announced that Inside
Information passed away Saturday from natural causes. The
champion mare was 26.
Inside Information was bred and owned by
Ogden Mill Phipps. By Private Account and out of Pure Profit, by Key to the
Mint, Inside Information was born at Claiborne Farm in May 1991. She won 14 of
17 career starts under the care of trainer Shug McGaughey and bankrolled
$1,641,806.
At two, Inside Information won her debut at
Belmont Park. Improving the next year, she also took the Grade 1 Ashland Stakes
and the Grade 1 Acorn Stakes. Her 4-year-old year, and her final year, was the
best though. She won four Grade 1 races – the Shuvee Handicap, the Ruffian
Handicap, the Spinster Stakes, and the Breeders' Cup Distaff, which she won by
13 ½ lengths, the largest margin of victory in Breeders' Cup history.
In 1995 she received the Eclipse Award for
Champion Older Mare and was inducted into the Hall of Fame in 2008. The
following year, Gulfstream Park renamed the Shirley Jones Handicap to the
Inside Information Stakes, which is still run today.
When retired from racing, Inside Information
returned to Claiborne Farm. There she gave birth to the 2005 Champion
3-Year-Old Filly, Smuggler.
Inside Information will be buried at Claiborne
Farm in their Marchmont cemetery.
By Christine
Oser