Author, international speaker and conversation curator, Koereyelle DuBose, has created the ultimate blueprint for empowering women to live their most fulfilling single life before becoming a wife. After ending a long-term relationship with her then fiancé and walking away from a career in early childhood education, DuBose set out on a soul-searching mission. Understanding the importance of self-love in all aspects from emotional well-being to financial freedom and spiritual health, she founded, The Single Wives Club, a resource to engage other fearless women in their pursuit of happiness. Seven years later, her vision has evolved into a brand that has garnered a loyal following from a network of women committed to choosing their authentic selves before anyone else.
As part of DuBose's brand extension and ongoing mission she organized the highly anticipated annual WERKPraySlay weekend. Considered the premiere "weekend for winning women," this year the conference takes place November 3rd-5th in Atlanta, GA and includes a Glam Night Out, WERKaholic Awards Celebration and Big Hat Brunch. With a diverse group of attendees and sessions focusing on creating well-rounded individuals on topics ranging from personal finance to public relations, world travel to stress management; guests are readying for a remarkable experience. Although, the event is rapidly approaching, Koereyelle DuBose took a few minutes from her active schedule to share tips for relationship readiness, inspiration behind the launch of WERKPraySlay, personal definition of empowerment and one of the surprising elements from her entrepreneurial journey.
Dontaira Terrell: Can you share your three tips for relationship readiness?
Koereyelle DuBose: Clean out your closet- One of the biggest mistakes single women make is taking their old habits, beliefs and fears from one relationship to the next. In order to really create something healthy, I think it's important to be in a healthy place within yourself. I recommend therapy for any single woman over 30.
Spend time dating yourself- Sounds cliché but it is crucial. If you don't enjoy your own company, you can't expect anyone else too. The more you start to recognize your power and own your greatness the less BS you'll allow into your life.
Be true to you- Another mistake both men and women make is dating people for the wrong reasons. For example: We can date someone because he/she looks good on paper knowing good and well we aren't compatible in real life. It is important to know what really matters to you and what you really need in order for a relationship to successfully work.
DT: How would you describe The Singles Wives Club to someone hearing about it for the very first time?
KD: The Single Wives Club is a support system for single women where we utilize our tools and resources meant to encourage single women to keep the faith in love while waiting to become wives. Our entire mission is to educate and empower ladies to become better women before becoming wives through our varying available resources such as:
TheSingleWivesClub.com online portal
Two free werkshops with marriage-mentors taking place each month
Hosting a brunch every Fall during WERKPraySlay weekend, dedicated to teaching single ladies what to do before saying I Do
A new study group coming soon!
DT: How did your career background in early childhood education help prepare you to run your organization?
KD: OMG! I laugh about this all of the time because I am literally doing a lot of the same things now, I did as a teacher. The curriculum writing and lesson planning definitely came in handy especially when I'm working on programming for the year. Not to mention, when I speak at events and conferences, I apply the same principles I used with my students. At the end of the day, I'm an educator and everybody is looking to learn something of value and substance.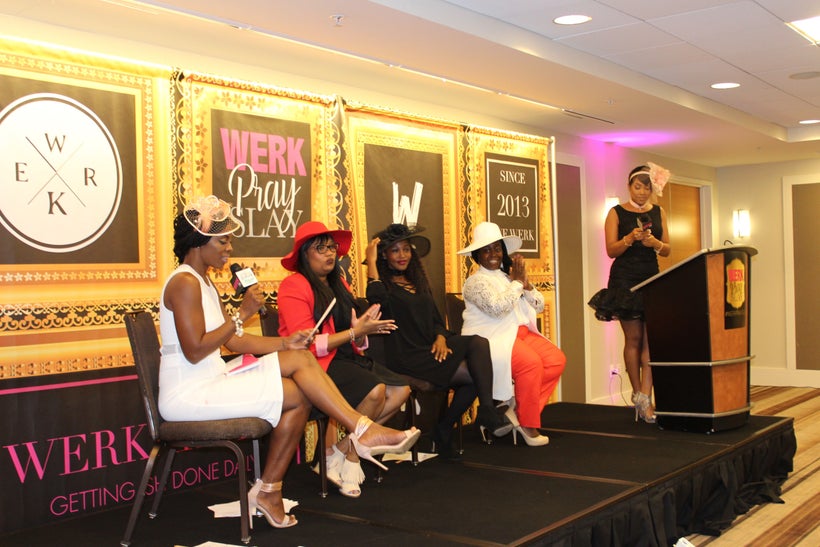 DT: What inspired you to launch WERKPraySlay weekend?
KD: WERKPraySlay is meant to be a melting pot of diverse women from different backgrounds who come together with a common goal of wanting to find out how to become the woman God has created them to be. Ultimately, my inspiration stemmed from wanting to see women win! I was tired of attending events that "looked" good but weren't of substance. I also hated getting dressed up, buying tickets, going to these events and not knowing anything or anyone new when I left. I wanted to use my background in education and passion for entrepreneurship to create a life-changing experience that provided women with practical tips, tricks and tools to be who they were born to be.
DT: What was the original mission behind this weekend for winning women? How has that mission evolved in the time since?
KD: The original mission was a weekend of relationship readiness for single ladies. However, as I evolved and developed myself as an entrepreneur (and as a woman) I realized how important it was to know a little bit about a lot… to be able to manage your household and your side hustle.
Our programming is now tailored for all women- single or married who want to prepare themselves personally and professionally for a life they love. I truly believe we owe it to ourselves to go after our dreams and this conference is going to give you what you need to make it happen.
DT: A common theme for all of your events is empowering women. What is your personal definition of empowerment and why is it important?
KD: My personal definition of empowerment is sharing. Sharing your knowledge to help another woman, sharing your spotlight, sharing your platform, sharing your resources, sharing your support– sharing whatever you have to give so that your sister can succeed. Life is too damn tough to do alone! We are hard enough on ourselves that sometimes just having someone to encourage us, someone to be there for us is all we need.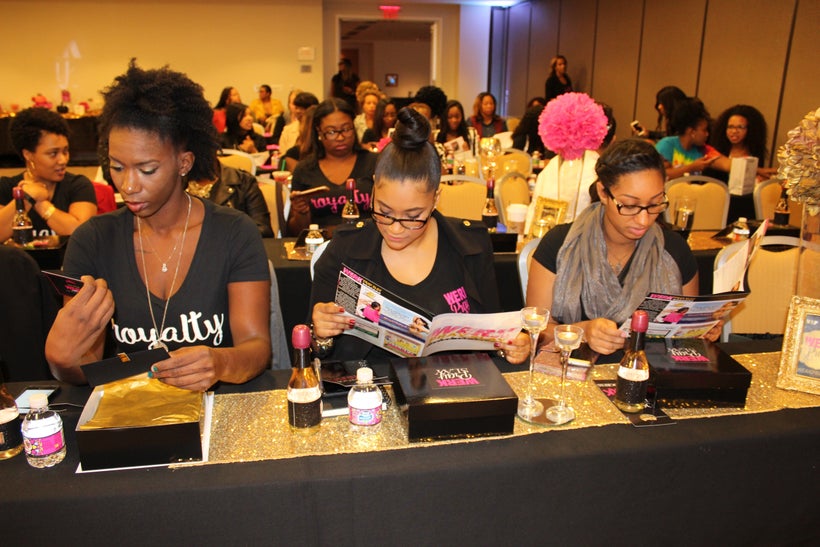 DT: Most surprising element that came from creating a huge network and conference like WERKPraySlay?
KD: Originally, when I had the concept for my first conference back in 2012, I had no idea, one day women would travel from around the world to attend! Over the last few years, our out-of-town guest list has increased but this year we're welcoming women from 31 cities and 3 countries! The most surprising thing is realizing that no matter where you are, what you do or what you're going through most women are seeking the same thing…knowledge.
DT: What can attendees look forward to about the overall experience?
KD: My guests are going to walk away with a newfound sense of self! They are going to have such an amazing time in celebration, connecting with like-minded ladies and finding out what it takes to achieve their goals. I assure you they will be ready to get to WERK as soon as they get back home. This isn't just a "feel good" empowerment conference, it's truly based on education. You're definitely going to have new skills and tons of new contacts when you walk away!