Crystal Palace midfielder Luka Milivojevic is looking forward to coming up against the man who brought him to the Premier League on Saturday but admits he will do everything he can to heap more misery on Sam Allardyce.
The Everton manager plucked the unknown Serbian from Olympiakos a year ago while Eagles boss and guided Palace to safety with Milivojevic thriving in midfield, but left the club abruptly at the end of the season to take a break from football.
Milivojevic, who scored a penalty to rescue a point against Newcastle on Saturday, admitted afterwards he was looking forward to coming up against one of the "best managers" he has worked with but added he and his team-mates were left shocked when Allardyce left.
"We did not expect that," he said on the former England manager's abrupt departure. "One morning they said he had left and wanted to retire from football. It was a shock for us.
"We were not happy because he had good results under him. But that is life. Then after how I don't know how many months he signed for Everton because they needed him.
"Was I surprised to see him back at Everton? Yes. They have an amazing squad and signed a lot of good players. It will not be easy [there on Saturday].
"We know it will be tough until the end. There are eight or nine teams to fight to stay in the league. At the beginning of the season we had seven games without scoring and without a point so we have to be happy and continue to take points.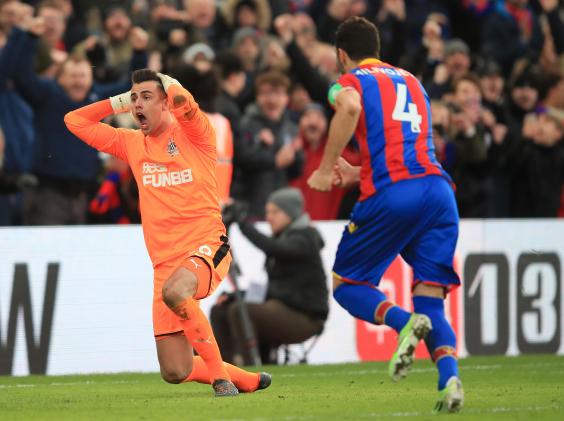 Milivojevic rescued a point for Palace against Newcastle on Saturday (Getty)
"I was very pleased with him when he signed me. I played for him, we stayed in the league and we have very nice memories under him and for sure he was one of the best managers I have worked with.
"We are going to give our all to beat them but before and after the game we are going to shake hands because we spend a lot of time together and had great memories."
Things haven't quite gone to plan for Allardyce at Goodison Park, although they still remain seven points clear of the drop. However with a handful of teams down the bottom now finding form his side could easily be dragged into a relegation battle and since he arrived they have been dumped out of the Europa League and FA Cup and won just three of their last 12 league games.
Palace meanwhile, who haven't lost at Everton since returning to the Premier League almost five years ago, will be hoping to continue that trend and if they play like they did in the second half against Newcastle, where they created plenty of chances, they will win, reckons Milivojevic.
He added: "If we can play the same way as today [vs Newcastle] it would be perfect. We have to try to do the same job [against Everton]. If we can create like we did against Newcastle it will be perfect if we score more goals.
"We deserved to win. We created a lot of chances, we missed a lot of chances. In the end, like against West Ham [four days prior], we have to respect the point. But we deserved three points from this game for sure.
"In the first half we had three or four very good chances to score. In the second half we had seven or eight. We created a lot and for 10 or 15 minutes after we conceded the goal we had problems controlling the game but most of the game we controlled and we deserved three points."
Reuse content