Storm Ophelia claimed its first victim in Ireland, as a woman died amid some of the worst weather conditions to hit the country in 50 years.
A person in her 70s was killed after a tree fell on her car in Waterford in the south-east of the country, state broadcaster RTE said. Met Eireann, the nation's weather service, extended its most severe warning nationwide for the first time ever, with Ophelia expected to bring winds in excess of 80 kilometers an hour (50 miles per hour) to parts of western Ireland. Some of the strongest gusts may rise above 150 kilometers an hour.
Banks closed branches, dealing rooms limited trading and airlines canceled flights, with the storm slamming the south of the country from about 10 a.m. About 120,000 homes lost power, according to the state's electricity company.
"Ophelia is a very dangerous storm," Ireland's Prime Minister Leo Varadkar told reporters in Dublin on Monday. "The last time we had a storm this severe, 11 lives were lost."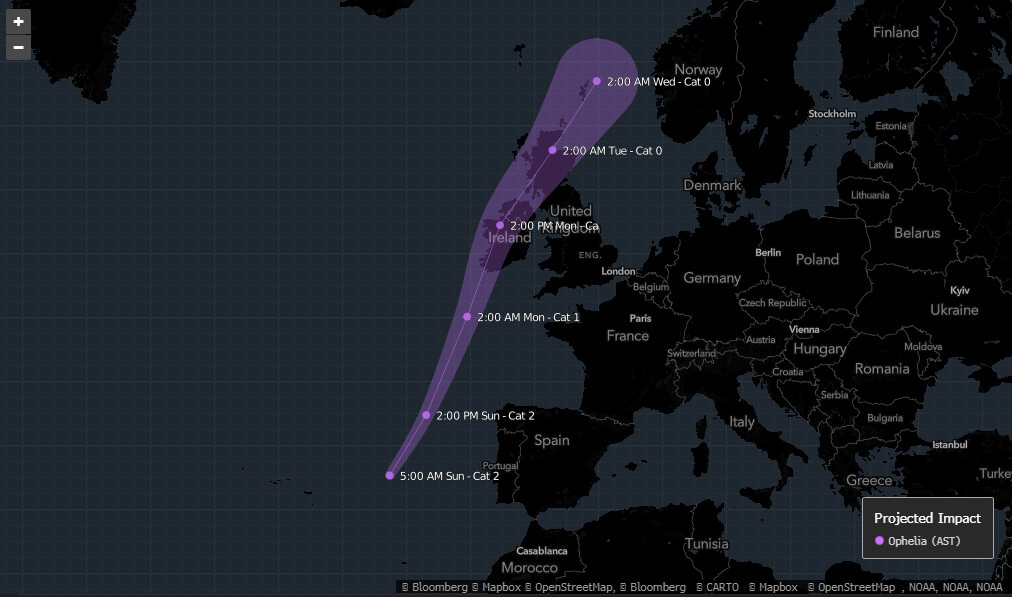 Ophelia brought gale-force winds to southern Ireland by early Monday, with hurricane-force winds due by the afternoon. Schools will remain closed, bus services have been suspended and coastal areas are preparing for flooding. The Irish Stock Exchange closed its office, though trading will continue as normal, while the Irish central bank told staff to work from home.
"This is a national red alert, it applies to all cities, all counties, and all areas," Varadkar said. "Even after the storm has passed there will still be dangers. There will be trees on the ground, there will power lines down."
Royal Bank of Scotland Group Plc decided not to open its Ulster Bank branches, while Investec Plc said it will have a limited treasury service in Dublin, with its office only fully manned till 11 a.m. Permanent TSB Group Holdings Plc closed its offices, while some 135 flights have been canceled at Dublin airport.
Significant Flooding
A dangerous storm surge and significant coastal flooding are expected in the areas where the storm makes landfall, the U.S. National Hurricane Center said. In another precaution, tonight's soccer game between Cork City and Derry, which has the potential to be a title decider, has been postponed and some court hearings were deferred.

Hospitals canceled appointments and many stores closed. Insurer FBD Holdings Plc dropped as much as 1.3 percent to 7.90 euros in Dublin trading.
Ophelia could become the strongest post-tropical system to rake Ireland since Hurricane Debbie in 1961, which killed 18 people. Using a prior forecast track, Chuck Watson, a disaster modeler at Enki Research in Savannah, Georgia, said damages from Ophelia in Ireland could reach $800 million and $300 million in the U.K.
Weather Warnings
Ophelia could make landfall close to the Trump family's golf resort near the village of Doonbeg. The resort, which has said it can lose as much as 10 meters of land to coastal erosion during a bad storm, is along the route expected to be hit by Ophelia's gale force winds.
The U.K. Met Office has issued amber warnings for winds for Northern Ireland, with a less-severe advisory for parts of Scotland, northeast England and Wales.
Ophelia may also bring record wind power generation. Peak U.K. wind generation is forecast at 9,129 megawatts on Monday, beating the previous record of 8,905 megawatts on Oct. 1.
— With assistance by Alex Longley