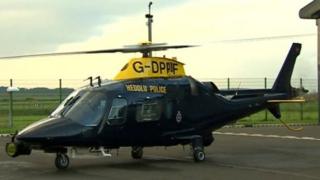 A police helicopter service is taking almost an hour to reach incidents in the Dyfed-Powys Police force area, a report has said.
The force's base in Carmarthenshire shut in January 2016 due to cuts by the National Police Air Service (NPAS).
It now pays £891,000 a year for national air support which comes from bases in north and south east Wales, as well as England.
A force spokesman said the helicopter was a "valuable asset".
The HM Inspector of Constabulary investigation found helicopters took in excess of 50 minutes an average to reach incidents in the Dyfed-Powys Police force area – which covers south west and mid Wales – the second worst response time in England and Wales.
Across England and Wales it said air support was failing to get to thousands of incidents before they are over.
Since January 2016, Dyfed-Powys has called in air support from the national NPAS service helicopters based in St Athan, Vale of Glamorgan, and Hawarden, Flintshire and England.
In the last year the force paid £891,000 for 349 hours of air support, the equivalent of £2,553 for every hour of air cover.
Response time to the Dyfed Powys Police force area is only second to Cumbria Constabulary, with helicopters taking over an hour to reach incidents, while the Metropolitan Police Service experienced the fastest responses in just over 10 minutes.
North Wales Police paid one of the highest rates for air service, at a cost of about £1,600 per 1,000 people – with an average response time of about 36 minutes.
This compares to a cost of about £1,100 in Gwent – with a response time of about 30 minutes – and £1,300 in Dyfed-Powys per 1,000 of the population.
The report said the high cost incurred by North Wales Police could be down to above average use of the helicopter.
A Dyfed-Powys police spokesman said the effectiveness of the service provided by NPAS was regularly reviewed and fed back to the service provider.
A spokesman added: "This is a valuable operational resource for us as a rural area, and we will continue to work with NPAS colleagues to get the best service for our communities using this valuable asset when circumstances are appropriate, and this will include seeking greater coverage from future developments."