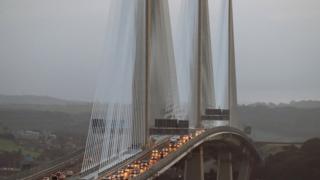 The director responsible for the Queensferry Crossing has denied she knew the bridge would have to be partially closed for snagging works back in August when it opened.
Michelle Rennie told the Scottish parliament's Rural Economy and Connectivity Committee the contractor would cover the costs of the work.
The carriageway resurfacing will begin on Thursday at 22:00.
It is due to finish at 06:00 on Wednesday 6 December.
'Relatively normal'
Ms Rennie said: "We've been consistently saying that there would be finishing and snagging works required.
"The contract allows for those works up until next September at no additional cost.
"There will be additional works. Mechanical and electrical works, lifts to the towers, and that sort of thing.
"There was no need to delay opening the bridge for that sort of thing. These are relatively normal."
Conservative MSP Jamie Greene asked: "Will there be further closures?"
Ms Rennie replied: "There will be further lane restrictions."
Southbound traffic will be diverted across the Forth Road Bridge while the work is carried out.
The speed limit will be 40 mph on both bridges.
Transport Scotland said work is necessary on the bridge expansion joints to allow it to carry traffic travelling at 70 mph.