Posted on : Jan.14,2018 14:41 KST
Modified on : Jan.14,2018 14:41 KST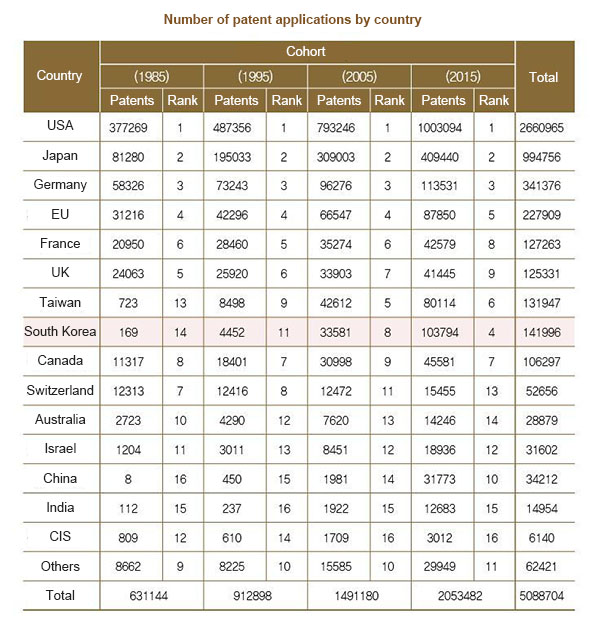 Number of patent applications by country
Country found to be relatively unprepared for Fourth Industrial Revolution
An analysis of patent applications and usage suggests South Korea has world-leading levels of technology and innovation capacities for the information and communications technology (ICT) revolution, but is relatively lacking in innovation capacities for the Fourth Industrial Revolution (4IR).
The findings were published on Jan. 11 in a paper titled "The Fourth Industrial Revolution and South Korea's Innovation Capacities: A Patent Data-Based Comparative Analysis by Country and Technology, 1976–2015" by Seoul National University (SNU) economics professor Lee Ji-hong, SNU master's candidate Im Hyeon-gyeong, and Bank of Korea Economic Research Institute associate research fellow Jeong Dae-young.
Lee and the other researchers analyzed some five million utility patent applications with the US Patent and Trademark Office (USPTO) for 15 major countries over the a 40-year period, which they divided into four ten-year periods from 1976 to 1985, 1986 to 1985, 1996 to 2005, and 2006 and 2015. The 15 countries were the US, Japan, Germany, the European Union (not including Germany, France, and the UK), France, the UK, Taiwan, South Korea, Canada, Switzerland, Australia, Israel, China, India, and the former Soviet Union, which together account for 99% of all patent applications.
In terms of patent numbers, the US and Japan respectively ranked first and second for all four periods, while South Korea rose in the rankings from 14th to 11th, 8th, and 4th. The US and Japan were also respectively first and second, with European and Asian countries following behind, for the Hirsch index (h-index) reflecting patent quality in terms of usage, or the number of existing patents cited in later patents.
Since the 2000s, however, the ranking of France, Switzerland, and other European countries has fallen, while emerging economies such as South Korea, Taiwan, and Israel have joined the top ten. South Korea's rise in the ranking has increased over time, climbing from 14th to 13th, 10th, and most recently 8th. In terms of the 10 technology sectors with the most patent applications between 1996 and 2005, its h-index ranking placed it third behind the US and Japan.
"The most patent applications between 1996 and 2005 were in technology areas related to semiconductors, multiplex communication, and computer graphics, which received scarcely any attention before the 1990s," explained Jeong Dae-young.
"In some respects, South Korea became a world leader and innovation driver in industry and technology sectors related to the Third Industrial Revolution and ICT revolution," Jeong said.
But for the period from 2006 to 2015, South Korea's h-index ranking was just 11th for the ten technology sectors showing the fastest increase in patent applications.
"In terms of the ten technology sectors with the fastest patent application rate, most in the mid-'90s were related to hardware-centered information technology, but since the mid-'00s they have been software-centered IT, biochemical, and pharmaceutical areas," Jeong said.
"If we view the technology sectors with the fastest increases in applications [in the past ten years] since the mid-'00s as being the key technologies of 4IR, then we could interpret it as meaning that we're lagging that far behind in terms of 4IR-related innovation capacities," he added. This suggests that while a fast rate of patent applications signals a strong likelihood that a new technology will gain attention, South Korea's competitiveness in that area over the past decade has been relatively lacking.
"The research suggests that with South Korea's innovation capacities skewed toward IT-related patent areas, there's a risk of slow innovation-based economic development if the technology and industry structures undergo rapid changes in the future with the Fourth Industrial Revolution," Lee Ji-hong said.
"We need to channel our resources and capabilities into shifting toward a new 4IR paradigm by sustaining and developing the innovation capacities we already possess and proactively increasing investment in areas with great future development potential," Lee suggested.
By Lee Soon-hyuk, staff reporter
Please direct questions or comments to [english@hani.co.kr]