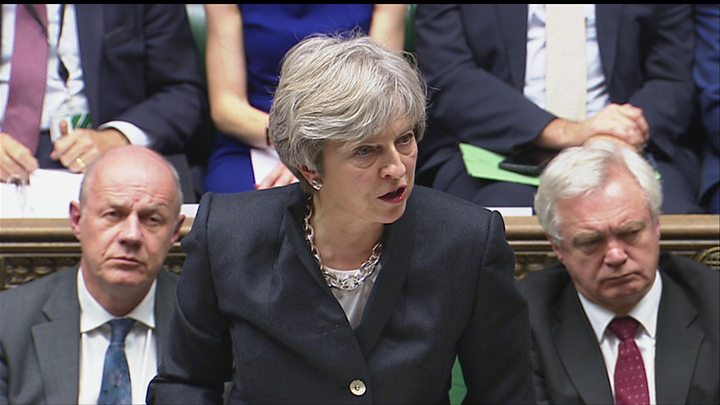 The UK has set out how it could operate as an "independent trading nation" after Brexit, even if no trade deal is reached with Brussels.
Prime Minister Theresa May told MPs "real and tangible progress" had been made in Brexit talks.
But the country must be prepared for "every eventuality", as the government published papers on future trade and customs arrangements.
Labour said "no real progress has been made" since last June's referendum.
"The question has to be asked – what on earth has the government been doing all this time?," said Labour leader Jeremy Corbyn, suggesting the cabinet had spent the time "squabbling amongst themselves".
Mrs May repeated her call for a "new, deep and special partnership between a sovereign United Kingdom and a strong and successful European Union" in her first statement to MPs since her Florence speech last month, which was meant to kick-start stalled Brexit talks.
"Achieving that partnership will require leadership and flexibility, not just from us but from our friends, the 27 nations of the EU," she said.
"And as we look forward to the next stage, the ball is in their court. But I am optimistic we will receive a positive response."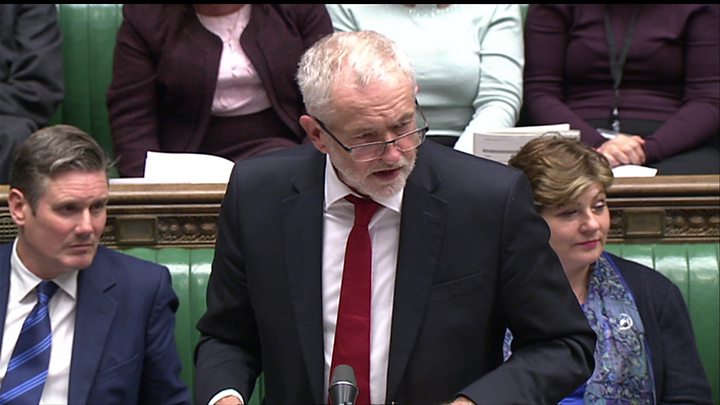 She rejected existing models for economic co-operation, such as membership of the European Economic Area or the Canadian model, calling instead for a "creative" solution that would be "unique" to the UK.
But she also stressed – as she has done before – that the government was preparing for "every eventuality," reinforcing her long-held position that walking away without a deal is a possibility.
The two White Papers give the most detail yet of contingency planning that is under way.
What's in the White Papers?
By Chris Morris, BBC Reality Check correspondent
The White Papers on future trade and customs policies are aspirational documents, setting out how the government hopes the UK will be able to operate in the future after Brexit.
They set out three strategic objectives: ensuring UK-EU trade is as frictionless as possible, avoiding a hard border between Ireland and Northern Ireland, and establishing the UK's own independent international trade policy.
But there is also contingency planning, in case the UK leaves the EU without a negotiated settlement.
A customs bill will make provision for the UK to establish a stand-alone customs regime from day one, applying the same duties to every country with which it has no special deal.
The level of this duty would be set out in secondary legislation before the UK leaves the EU.
For high-volume roll-on roll-off ports, the legislation would require that consignments are pre-notified to customs authorities, to try to ensure that trade continues to flow as seamlessly as possible.
"No deal" is not the government's preferred option; and the detail in the customs paper in particular hints at how disruptive it could be. But the UK wants the EU to know that it is planning for all eventualities.
Mr Corbyn told MPs the government was making a "mess" of Brexit and its position on the single market and freedom of movement was "confused".
The Labour leader urged Mrs May to unilaterally guarantee the rights of EU citizens in the UK, as well as criticising the lack of progress on Northern Ireland.
Mrs May said Britain would leave the single market and customs union in March 2019, when freedom of movement as we know it would also end.
On Northern Ireland, she said the government had begun "drafting joint principles on preserving the Common Travel Area, and associated rights and we have both stated explicitly we will not accept any physical infrastructure at the border".
The SNP's leader at Westminster, Ian Blackford, said there had not been a single mention of the devolved administrations in Mrs May's speech, as he called for urgent action on EU citizens' rights.
Mrs May's statement comes as the fifth round of negotiations began in Brussels. Focusing on technical issues, it is the final set of talks before EU leaders meet on 19 October to decide if enough progress has been made to talk about post-Brexit relations with the UK, including trade.
After her speech in the House of Commons, Mrs May will meet with leading industry figures to try to reassure them about the Brexit process.
Companies including Aston Martin, HSBC, Morgan Stanley and Vodafone will attend the meeting of the Business Advisory Council in Downing Street, alongside Chancellor Philip Hammond and Brexit Secretary David Davis.