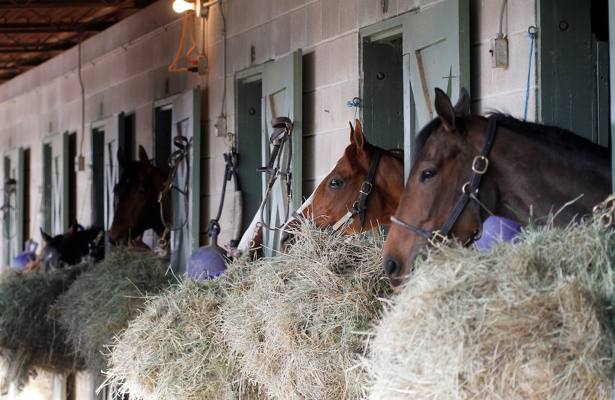 A brush fire sparked Thursday near San Diego has spread to the San Louis Rey Downs training center that houses hundreds of racehorses, including those trained by Peter Miller, who won two races at this year's Breeders' Cup.
Just after 6 p.m. ET, an NBC San Diego reporter on site said those assisting in evacuation efforts at San Luis Rey "had panic in their voices" and were "begging for an extra facemask because they were overcome with the smoke." At least one fire truck was on site with helicopters hovering above.
The Blood-Horse's Jeremy Balan spoke to trainer Cliff Sise, who said barns had burned down, and that the blaze spread fast enough that the only solution was turning horses loose from their stalls. NBC San Diego camera shots showed a herd of horses moving freely, confined by the training track's rail.
The number of horses on site at San Luis Rey measures in the hundreds. Those that were evacuated are being accepted at the Del Mair Fair Grounds about 30 miles South.

Named the "Lilac Fire" by local officials — Lilac, Calif., is close — the blaze was 0 percent contained and had reached 500 acres in breadth as of Thursday afternoon due to high sustained winds. Conditions resulted in a local state of emergency by the County of San Diego.

According to the facility's website, San Luis Rey is the only training track continuously approved by the California Horse Racing Board dating back to 1984 — meaning horses can ship from there and race the same day.

Just Thursday, graded stakes winner Dressed in Hermes recorded a workout there, while horses conditioned by Doug O'Neill, Jerry Hollendorfer and other top California trainers have posted timed drills this week.
Spooked horses near the fast-moving #LilacFire ran in circles through the thick smoke, trying to escape the flames.
Authorities are trying to help large animals in harm's way. Find evacuation information for large animals here: https://t.co/anQv3bapnB pic.twitter.com/ZT4bYPzSMp

— #NBC7 San Diego (@nbcsandiego) December 7, 2017