Technology and value are two categories that seemingly don't belong together in today's market – investors have to search into the deepest, oldest pockets of the industry to find value. A lot of those companies are dying – but I don't think that's true of Western Digital (NASDAQ: WDC), the chipmaker whose single-digit P/E ratio suggests that the business is at risk.
Western Digital is actually a rather remarkable company in that it's standing firmly in its core hard drive turf (along with Seagate (NASDAQ: STX), a company I also like) and maintaining its #1 market share in HDDs and growing its exabyte shipments, while at the same time aggressively pursuing growth in NAND flash technology. Its protracted dispute with Toshiba over the sale of its flash manufacturing unit has come to an end, giving Western Digital a clear path for growth in the flash business.
In this sense, Western Digital is somewhat analogous Microsoft (NASDAQ: MSFT). Microsoft's legacy Office and Windows businesses aren't growth stars anymore either – it's hanging on to market share in those areas while chasing growth in Azure infrastructure and Dynamics cloud apps. Microsoft has been a stellar performer in the markets lately, rising nearly 2x in the past two years. Western Digital's HDD and flash businesses can be thought of in the same way – eventually, the company will have its day in the sun.
At current levels in the low $80s, Western Digital is trading at ~6x forward earnings – far below the broader market and even at a substantial discount to fellow beleaguered hard drive peer Seagate.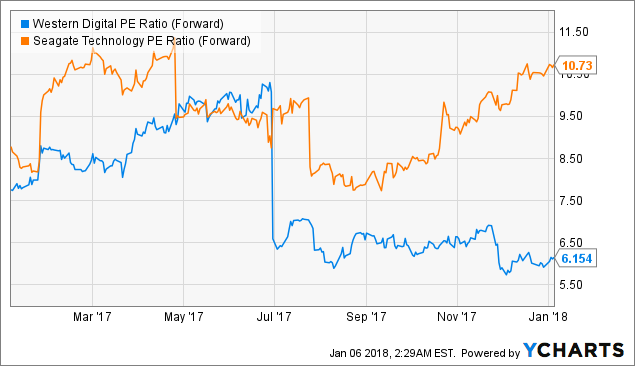 A recent (and I believe unwise) downgrade has sent Western Digital shares into a funk, so I'm looking for opportune buying opportunities as the stock hovers near $80. Any dip below and I'm loading up on shares.
With markets so high and growth names enjoying a long-drawn victory lap, investors are wise to rotate a good amount of their portfolios into value names. With its ultra-cheap valuation, and supported by strong fundamentals in the memory business – both in hard drives and flash – Western Digital is a strong horse to bet on for the coming year.
Two businesses – HDDs and flash
Western Digital is mostly known for its hard drive products – hardware that stores data by means of spinning magnetic disks. In recent years, however, flash memory (which requires no moving parts) has become the most popular form of storage, which much faster and more reliable performance. Western Digital pushed heavily on flash in 2016, when it acquired SanDisk for $19 billion. Still, however, flash is much more expensive than HDD storage – making HDDs the storage method of choice for non-critical data that doesn't need to be continually accessed.
As I wrote in a prior article on Seagate, demand for hard drives is strongly driven by the current explosion in enterprise data – and not all this data needs to be "always on." Hard drives give data-rich companies a cost-effective solution to store their "data at rest."
Growth in NAND flash, on the other hand, is being driven by strong shipments of PCs and mobile devices – all of which are requiring larger memory capacities, as applications become more rich and eat up more memory.
With a foot in each of the two markets in the non-volatile memory space (as opposed to RAM, the type of memory that loses its content when a device is powered off), Western Digital looks well poised to continue its growth run. The IT industry is increasingly deploying what Western Digital calls a "tiered architecture" for storage – using HDDs and flash in concert to address different use cases. The notion that flash is cannibalizing HDDs is partially true – but it's not killing off HDDs altogether, as there's still a large and stable market for this cheaper legacy technology.
Think of Tesla (NASDAQ: TSLA) and the electric car – just because a better, fuel-efficient and aesthetic vehicle exists in the market doesn't mean that the Models S, X, and 3 will ever completely kill off gasoline vehicles. Lower-end, "inferior" technologies can co-exist in the market with higher-priced alternatives. And with leading positions in both markets, Western Digital will enjoy the benefits of data growth no matter what turn the memory indsutry takes. There's certainly no reason for this company to continue trading at a single-digit P/E ratio for much longer.
The memory outlook
Multiple companies have cited strong outlooks for the memory industry in the coming year, lending credibility to the thesis that Western Digital can see a multiples re-ration and have its valuation "corrected" on the back of consecutive earnings beats this year.
Let's start with Western Digital's own forecast. In October, after releasing 1Q18 earnings, Western Digital guided to $5.2-$5.3 billion in revenue for Q2 and pro forma EPS of $3.60-$3.70; as well as $12.50 in pro forma EPS for FY18. After the company's resolution of its Toshiba dispute, it's now calling for $5.3 billion in revenue for Q2 and $3.80 in EPS, as well as $13.00 in EPS for FY18 as well as 4-8% revenue growth. See the company's updated guidance summary below:
Figure 1. Western Digital guidance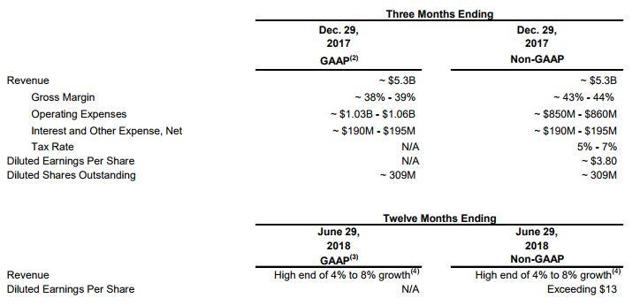 Source: Western Digital investor relations
Note that Western Digital's PF EPS guidance of $13 greatly exceeds the $9.19 it achieved in FY17.
Western Digital isn't the only memory company issuing upbeat guidance, either. Rival Seagate's most recent Q1 earnings quarter was a huge success, and the company guided to 3-5% sequential revenue growth and a sequential doubling of operating cash flow. Micron (NASDAQ:MU), the maker of raw NAND flash memory wafers for end-products like Western Digital's, pointed to a 50% increase in NAND bit shipments. Note that stabilizing NAND prices and an improved supply picture are not altogether a negative situation for Western Digital – as a vertically integrated company whose anchor business is in memory end products, not wafers, more competitive NAND pricing translates to significant gross margin savings for Western Digital.
Financial performance humming along
Western Digital has kicked off its fiscal 2018 with a bang thus far. The company saw a 10% y/y increase in Q1 revenues to $5.2 billion, driven by 13% growth in the company's Client Devices segment (which supplies memory to hardware such as PCs) and 16% growth in Client Solutions (which provides removable memory devices). Revenues beat analyst consensus by $40 million.
A note here on Client Solutions: as end-uses such as video games become more graphically complex and memory-consuming, storage companies have seen surprise uplift in demand for removable memory from gamers; in addition, the growing popularity of cryptocurrency has likewise fueled demand for detached memory products to store bitcoins. The growth in Western Digital's retail product segments have more than offset flat y/y performance in its enterprise data center business, but as IT spending kicks up in the December quarter (Western Digital's Q2) and data volumes continue to expand, the company should see a return to growth in data center memory products.
See the company's Q1 summary chart below:
Figure 2. Western Digital's most recent quarterly results

Source: Western Digital Q1 earnings release
Also notable is the fact that exabyte shipments have increased in every segment, including data centers (the flat y/y revenue is attributed to declining enterprise ASPs). Total HDD ASP across segments, however, has remained steady at $61 per unit.
As mentioned in the prior section, Western Digital expects to continue its top-line trajectory in Q2 with $5.3 billion in revenue guidance, representing 8% y/y growth over 2Q17's $4.89 billion in revenue.
Note also Western Digital's extremely strong cash flow performance in Q2. Cash flow from operations is up nearly 3x to $1.13 billion, and free cash flow is up nearly 4x to $847 million. Pro forma EPS of $3.56 in the quarter was also a notable beat over Wall Street's expectations for $3.30.
60-second summary
The key sound bite from this high-level overview of Western Digital: the company has smartly diversified and has leading positions in both the HDD and flash memory markets, the latter of which is now safe after the company's dispute resolution with Toshiba. The company's Q1 results and FY18 outlook are extremely bullish – yet the company's share price, trading at just ~6x forward earnings, appear to suggest that the market doesn't believe the company's guidance.
Investors are skeptical that the favorable trends seen in the memory market in the past two years can continue – after all, companies like Micron are pointing to ~50% supply growth. Yet demand for memory end-products is also keeping up at a rapid pace as applications not only multiply in number and diversity, but also consume an increasing amount of storage space – and as the leading maker of memory products, Western Digital stands to benefit from that secular shift.
While it's true that Western Digital is no longer a growth stock and must work hard to defend its turf, it has a wide enough moat to justify buying the stock at a single-digit P/E multiple – at the very least, its 2.5% yield is high enough to keep patient investors happy.
Disclosure: I/we have no positions in any stocks mentioned, but may initiate a long position in WDC over the next 72 hours.
I wrote this article myself, and it expresses my own opinions. I am not receiving compensation for it (other than from Seeking Alpha). I have no business relationship with any company whose stock is mentioned in this article.