"Making it to the FINAL4 with Nantes is incredible"
At 30 and after travelling to Cologne three times with FC Barcelona in the past few years, Eduardo Gurbindo could easily get a little less upbeat about yet another VELUX EHF FINAL4. But he is not, on the contrary.
"Making it with Nantes is even more incredible than when we qualified with Barcelona," he says. "With Barcelona, you had to win everything. It was expected from you to qualify for the FINAL4. Nantes are not a top team yet. So it is unexpected, and I am even prouder to have helped the club going there."
For Gurbindo, 2018 could become a perfect handball year
For the Spanish right back, 2018 could become a perfect handball year. It started in the best possible way in January by winning the EHF EURO 2018 with Spain. Add the qualification for the VELUX EHF FINAL4 with Nantes a few months later, and this is already "a crazy season. When we won the EURO, we joked with David Balaguer that we wanted to go to Cologne with the club. And here we are."
Despite arriving on the west of France just 18 months ago, the Pamplona-born player has become a leader, both for the fans and on the court. Probably one of the most consistent players in Nantes' squad, he has even been nominated for the All-star Team.
But reaching the VELUX EHF Champions League Semi-final (against PSG on Saturday 26 May at 15:15 hrs, live on ehftV.com) is what really matters, he says.
"It makes me feel proud and very happy. Back in September, nobody thought we would be able to do it. We just wanted to prove that we belong among the best clubs in Europe. I think we quite fulfilled the mission," Gurbindo says with a smile.
In only their second season in Europe's top-flight club competition, Nantes finished third in a strong group, which also included powerhouses like Vardar, Barcelona and Rhein-Neckar Löwen.
"Our ambition grew along the way. Early in the competition, we beat Szeged and Barcelona and drew with Rhein-Neckar Löwen. And then you start to think: why not going further," Gurbindo says.
"When we won the Champions League, it was something different"
Gurbindo has been to the VELUIX EHF FINAL4 three times before with Barcelona – with mixed fortunes: they lost the 2013 final to HSV Hamburg but lifted the trophy two years later.
"A lot of stars were playing in this team, like Nikola Karabatic and Cédric Sorhaindo," Gurbindo says. "We had been chasing the Champions League title for a while so when we won it, it was something different, something that I will never forget."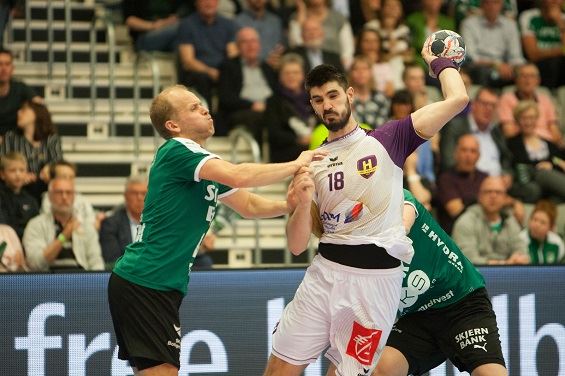 Gurbindo and the likes of Dominik Klein and Kiril Lazarov will Nantes provide with much-needed experience on the team's FINAL4 debut. Will that be decisive?
"I am not someone who talks a lot in the dressing room," Gurbindo says. "I had a chat with the coach last summer, about how I was calm and how I probably wouldn't raise my voice to say something to my teammates. I try to enjoy myself but in a quiet way. There are other people to do that."
Captain Rock Feliho is definitely the one for fist pumping and loud shouting. But, no matter how quiet he remains, Gurbindo will definitely enjoy another weekend in Cologne among European handball's greatest players.


Author: Kevin Domas / ew