Malkoun, 56, was reportedly living in the nearby ritzy seaside suburb of Glyfada, known as the Hellenic Hamptons.
It's believed he had established a power base in Greece in alliance with Russian gang members.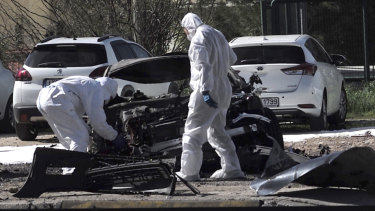 A Greek police source confirmed the victim was Malkoun, who came to Greece two years ago.
Last year, police said he was still an influential figure in the Comancheros in Australia, whose associates were involved in a factional war that was playing out on Melbourne's streets.
Malkoun's luxury car had Australian licence plates, and his driving licence had been issued by the United Arab Emirates, Ekathimerini reported.
Loading
In 2015, Malkoun reportedly fled from Thailand to Dubai, where his family had been living since he resigned as Comanchero president in 2013.
He had been questioned as a witness by Thai police in relation to the abduction and murder of international drug trafficker Wayne Rodney Schneider.
Ekathimerini also reported the blast may have been caused by dynamite, and it was not clear if he had been the intended target.
Last November, another Australian gangster, John Macris, was shot dead in an ambush in the Athens suburb of Voula. The Sydney underworld figure was ambushed outside his seaside villa and shot multiple times at close range.
Greek police speculated he was caught up in a local crime gang war. And according to media reports, he had been identified by police as the head of an international drug smuggling syndicate with connections in Spain, Dubai, Greece and Sydney.
Nick Miller is Europe correspondent for The Sydney Morning Herald and The Age