44 mins ago | Updated 35 mins ago
---
It's been a wild week on the Gold Coast of Australia. Surfline's ace forecasters have been tracking Cyclone Oma over the past few days as it's pumped out day after day of pumping surf to the myriad sand points of the region.
"Cyclone Oma sank south through the week, entering the Queensland swell window with a peak intensity at 75 knots and satellite-observed winds of 50 knots from within the region's swell window," explains Surfline forecaster Mike Watson. "The wind field overall was pretty expansive, with a wide area up to gale force covering much of the Coral Sea off of the Queensland coast."
That's a lot of wind over a lot of water, something all surfers like to see. "All of this set up a highly energetic swell event," Watson says. "Pulsey at times, but also pumping at times. As it hit on Thursday, we saw a more east-northeast swell direction, but as Oma sunk further south, it set up a blend of more east-northeast-east to southeast swell for Friday, which really favored the more protected points/bays along the Goldie. Winds were also southerly which also favors best conditions at many of the key Gold Coast spots."
And that's not all. "Even though Oma has weakened and will likely dissipate over the next 24-36 hours, the expansive wind field will keep some swell pumping in through the weekend," says Watson. "What's left of Oma will finally track off to the north-northwest and we'll transition to more east trade swell type of surf for next week. Good news? The tradewinds will be blowing straight at the coast for several days, so there'll be no shortage of surf for the Gold Coast for quite some time."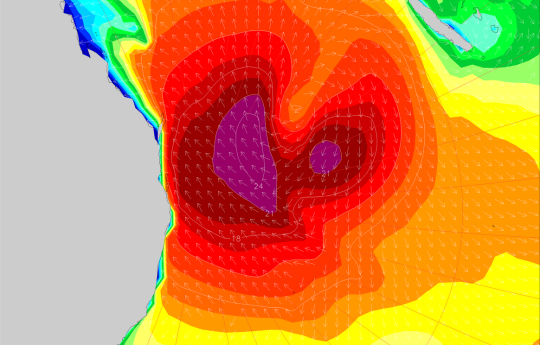 Swell Signature:
Storm Location/Movement: Located near Vanuatu before tracking south-southwest. (At press time, 367NM east of Brisbane.)
Peak Wind: 75 knots.
Peak Seas: Satellite confirmed 25-foot seas.
Travel time: 12-24 hours
Swell Height, Period, Direction: Palm Beach buoy off Queensland coast: 10 feet at 10-13 seconds. East-northeast becoming mix of east-northeast/east and southeast swells. Maximum wave height around 23 feet.
View: Live Superbank Multi-Cam
And here's what friends are for: