It's not every day that an iconic American brand gets attacked by the President of the United States. Such is the state of politics these days, for better or worse. In recent days, Harley-Davidson (NYSE:HOG) has been tweeted about by Donald Trump multiple times and in articles I've read covering the company I have seen various accusations made about the business and whether it is or isn't playing politics. This isn't good for business, but what matters most is the truth. In this article, I will outline the hard truths related to the company, for better or worse, and give my thoughts on why management's decision to move production overseas was both non-political and wise, and also discuss why the entity may still be between a rock and a hard place even with this transition.
An assault on an American brand
Last week, the management team at Harley announced their intentions to move some of their US production of motorcycles overseas. According to the filing, the production in question is for units that would have originally been built in the US and then shipped to the European Union for sale. The company has contended with a 6% tariff on their units that get imported into the EU, but following the start of Trump's trade war, the business was slammed with a hike on those taxes, taking the tariff to 31%.
In all, this increase would mean a $2,200 per motorcycle (on average) price increase. Per year, this would translate into extra costs of between $90 million and $100 million, with between $30 million and $45 million coming into fruition this year. The rationale behind this hit stems from management's goal to have the company absorb the blow, not consumers. In their regulatory filing on the topic, management had the following to say about the company's views of the situation: "Harley-Davidson maintains a strong commitment to U.S.-based manufacturing which is valued by riders globally. Increasing international production to alleviate the EU tariff burden is not the company's preference, but represents the only sustainable option to make its motorcycles accessible to customers in the EU and maintain a viable business in Europe. Europe is a critical market for Harley-Davidson. In 2017, nearly 40,000 riders bought new Harley-Davidson motorcycles in Europe, and the revenue generated from the EU countries is second only to the U.S.".
Clearly, this is a major move by a significant American brand, and it's not unreasonable for management to anticipate some sort of retaliatory response from the political spectrum. Trump, for instance, has characterized Harley as waving a "white flag", angering customers, surrendering, and more. He has threatened that if they sell those units back into the US, they would face a high tax, and he has berated the company for its decision last year to open a production facility in Thailand to cater to its Asian market. As can be expected, Trump's supporters responded similarly. I would imagine that similar outrage should be expressed regarding the Trump family's decision to still make their clothing and accessory lines in countries like Indonesia, China, Vietnam, and elsewhere, but I digress.

*Taken from Twitter

*Taken from Twitter

*Taken from Twitter

*Taken from Twitter

*Taken from Twitter

*Taken from Twitter
A matter of survival
The fact of the matter is that, while this move by Harley may come across as political, it probably isn't. In fact, it's likely a matter of necessity if the business wants to survive for the long run. Take a look, for instance, at the graph below. In it, you will see just how the business's financial picture has looked over the past five years. According to the figures shown, sales have dropped from $6.23 billion in 2014 to just $5.65 billion last year. That's a decline of 9.3% in just three years. Meanwhile, profits have plummeted, falling 38.2% from $844.61 million in 2014 to $521.76 million in 2017.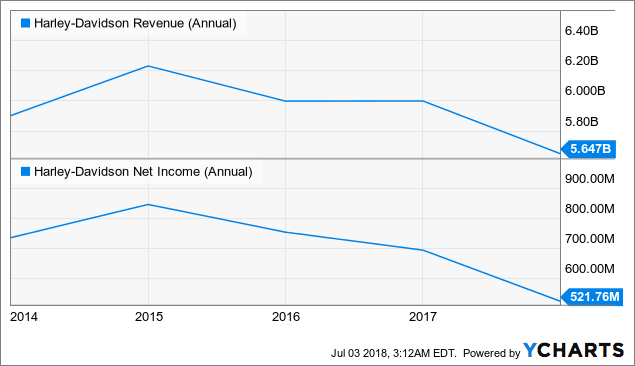 [object HTMLElement]
Even though the US is Harley's largest market, it would be a mistake to say that things here at home are excellent. Due to shifting consumer tastes, the motorcycle giant isn't doing as well as it could be doing, but it's also not faring horribly when industry considerations are put in perspective. In the graph below, for instance, you can see that while new motorcycle registrations for Harley's bikes have fallen every year since at least 2013, the actual percent of all US motorcycle registrations that are attributable to the company have more or less leveled off. This doesn't do anything with respect to sales. Revenue is still falling, but since at least 2015 the industry as a whole has suffered, so this appears to be more of a shift away from motorcycles than it is a shift from one player to said player's competitors.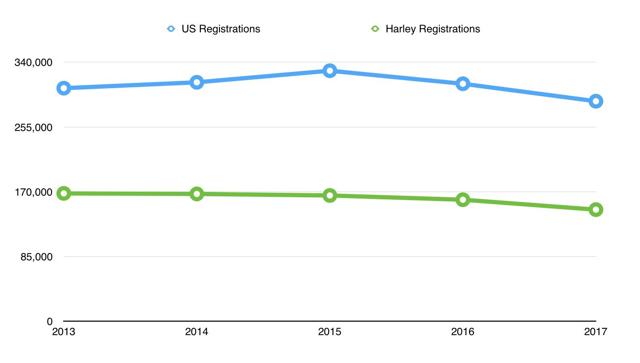 *Created by Author
The real issue, though, is overseas. In the next graph, shown below, you can see Harley's exposure to its second-largest market: Europe. The actual number of units registered have fluctuated within a fairly narrow range for most of the past five years, rising from 36,100 units in 2013 to 42,300 units in 2016 before dipping back down to 38,100 units last year. However, even though stable sales aren't generally bad, they have come about at a time of explosive growth in the European market's demand for motorcycles. In 2013, there were 281,800 registrations of new motorcycles within the EU. By 2016, this number soared 39.1% (or 11.6% per annum) to 391,900 units. Last year, this figure dipped, but by only 0.3%.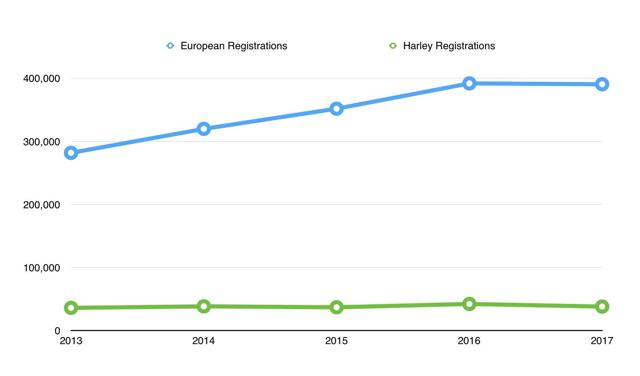 *Created by Author
As a percent of sales, this has been bad. In 2013, Harley accounted for 12.8% of the EU's market share. Every single year since, except for 2016 when there was a slight bump up, we have seen this market share decline. Last year, the figure was just 9.8%, and that's likely to worsen this year as sales compress further. Add to this the fact that 48% of its bikes sold to the EU are lower-cost, low-margin items compared to the 27% that fit that category in the US, and the 6% tariff the business had been facing before the hike was already painful and likely impaired sales growth.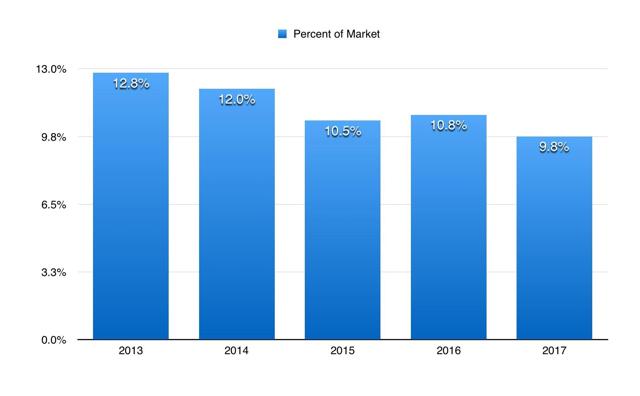 *Created by Author
Takeaway
It's easy, when you have strong political views, to get riled up about an issue, but I don't see Harley's decision here being motivated by political means. Sure, politicians on both sides of the aisle will use these developments to further their agendas, but the fact of the matter is that Harley has been generating lackluster performance in Europe for a while now. Last year, I wrote an article saying that management should focus more on the high-growth continent and this push may help them in the long run. Will it prove costly to those whose jobs would have otherwise not been lost? Sure. But given the alternative of facing accelerated declining market share, management had no choice.
Disclosure: I/we have no positions in any stocks mentioned, and no plans to initiate any positions within the next 72 hours.
I wrote this article myself, and it expresses my own opinions. I am not receiving compensation for it (other than from Seeking Alpha). I have no business relationship with any company whose stock is mentioned in this article.