Former White House press secretary Sean Spicer told Fox News that he will cooperate with the House investigation into Trump's ties with Russia.
"There's nothing that I have to hide," he said in the interview.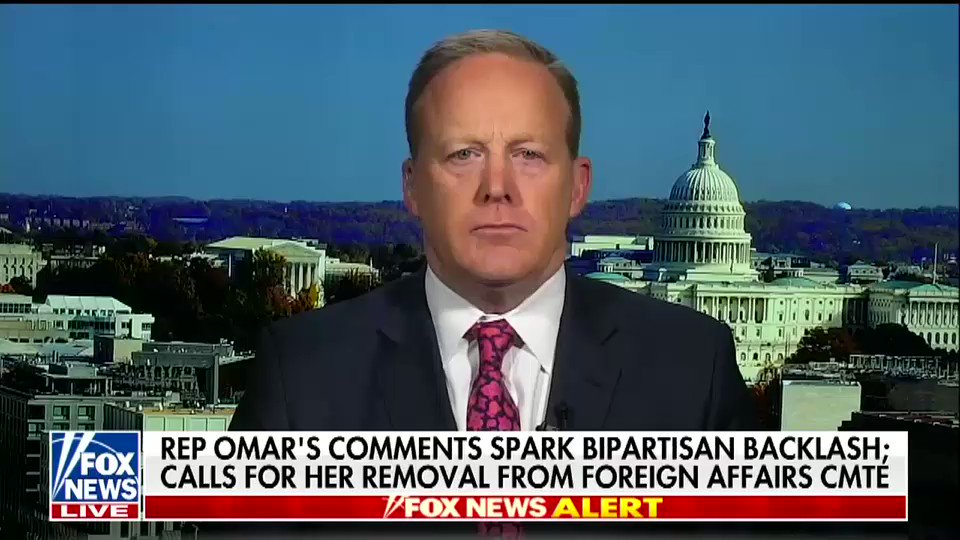 California congressman Adam Schiff, the chairman of the House Permanent Select Committee on Intelligence, has hired veteran prosecutor Daniel Goldman to join his panel's investigation of the Trump Administration.
The New Yorker reported that Goldman, who served as an Assistant United States Attorney in the Southern District of New York from 2007 to 2017, joined the committee's staff as a senior adviser and the director of investigations. The committee is leading the House's investigation into ties between the Trump campaign and Russia during the 2016 Presidential campaign.
Jeffrey Toobin writes that Goldman is well-suited to the role, with experience prosecuting individuals involved in Russian organized crime.
On Tuesday, Schiff put out a statement confirming the hire and announcing several others.
"I am excited to announce the recent addition of a number of capable individuals to the HPSCI leadership team, as we continue our important work of strong and effective oversight of the nation's intelligence agencies," Schiff said. "I look forward to working with them to perform important oversight and investigative work to ensure the security of our country and its institutions."
Sixty days into the 116th Congress – one congressional seat remains unfilled. And the seat will remain unaccounted for until at least September, after the results of the November election were thrown out due to concerns about wide-spread ballot tampering.
According to the Associated Press, North Carolina's elections board announced on Monday that the party primaries for the state's 9th congressional district will be held on May 14. If both parties handily choose their nominee, the general election will be September 10. If not, there will be a run-off primary contest and the general election could be delayed.
"It appears to me the irregularities and improprieties occurred to such an extent that they tainted the results of the entire election and cast doubt on its fairness," said elections board chairman Robert Cordle. "I believe the people of North Carolina deserve a fair election and deserve to have their votes counted properly."
Election officials ordered the new contest after dramatic public testimony that a political operative working for the Republican candidate Mark Harris had allegedly collected, filled out and forged mail-in ballots in counties in the 9th district.
Harris, who appeared to have won the seat in 2018, has said he won't run again for the Republican nomination. The Democrat, Dan McCready, said he will try again in a district Trump won by 12% in 2016.
Ohio teen Ethan Lindenberger who chose to be vaccinated against his mother's wishes will testify before Congress on Tuesday.
"I'm happy to share that I'll be testifying at a hearing for the committee of health, education labor, and pensions about the importance of vaccinations!" he wrote on Twitter, and included a video.
He'll be testifying alongside John Wiesman, the Washington state's secretary of health; John Boyle, president and CEO of the Immune Deficiency Foundation as well as other health experts.
This comes after a new major study by researchers in Denmark found no link between the measles, mumps and rubella (MMR) vaccine and autism, even among children whose siblings have the disorder.
Updated

Senator Bernie Sanders is ticking off the early voting states after formally launching his presidential campaign in Brooklyn and Chicago last weekend. His campaign announced that he will hold a rally in Concord, New Hampshire on Sunday morning following events in Iowa on Thursday, Friday and Saturday.
A controversial US surveillance program revealed in the Guardian by the National Security Agency whistleblower Ed Snowden in 2013, has not been used for six months and is unlikely to be renewed, a key congressional aide has said.
Under the version of the program, the NSA collected the communication records of millions of US citizens indiscriminately and in bulk, regardless of whether or not they were suspected of wrongdoing.



The administration actually hasn't been using it for the past six months because of problems with the way in which that information was collected and possibly collected on US citizens, [and] in the way that was transferred from private companies to the administration … I'm actually not certain that the administration will want to start that back up," Luke Murry, the national security adviser to Republican House of Representatives minority leader, Kevin McCarthy, told the national security website Lawfare.
A new book by veteran Democratic foreign policy adviser Trina Vargo accuses Bill and Hillary Clinton of nepotism, dishonesty and vindictiveness – even trying to get a grant to study in Ireland for their daughter's boyfriend.
The Guardian's Ireland correspondent, Rory Carroll writes that the book represents an "assault on a previously untouched part of the Clinton political legacy" in Ireland.
Vargo, who was a behind-the-scenes Washington player in Northern Ireland's peace process, claims the couple tried to obtain a scholarship to Ireland for a boyfriend of their daughter, Chelsea, and later cut funding for the scholarship to punish Vargo for backing Barack Obama in the 2008 Democratic presidential nomination race.
Angel Urena and Nick Merrill, spokespersons for the Clintons, defended the couple and rejected the book's claims. "Their legacy there is something they are incredibly proud of and one that is well documented. These accusations are baseless and patently false."
In an era of tribalism and partisanship, some 2020 candidates hope to rise above the fray with an appeal to what they believe is a yearning for cross-party congeniality and consensus-building. But veterans of the Obama White House tell the Daily Beast that such an approach is futile.



There's this sort of older way of thinking about politics where it's all about personal relationships… That's not how politics works," Dan Pfeiffer, a former senior adviser to Obama, told the website. "Barack Obama and Mitch McConnell had shared a bottle of whiskey once and McConnell went out and stole a Supreme Court seat from him."
This is part of a wider debate happening within the Democratic party about how to engage with Republicans in the age of Trump.
After eight years of watching Republicans rebuke, block and obstruct Obama's agenda – and then watch as the same people give their unyielding fealty to a man who breaks presidential norms on a daily basis – many younger and progressive Democrats are demanding their leaders give the opposition what they view as a dose of its own medicine. They want to see Democrats fight fire with fire. They want representatives who are hostile to the administration and unflinching in their opposition.
Case in point: Joe Biden, who is likely to run for president in 2020, drew sharp rebuke from progressives when he praised Mike Pence in a speech about how the US under Trump had lost its standing with key allies. Democratic presidential nominee Elizabeth Warren and former New York gubernatorial candidate Cynthia Nixon responded with a critique of Pence's LGBTQ record.
"You're right, Cynthia," Biden responded on Twitter. "I was making a point in a foreign policy context, that under normal circumstances a Vice President wouldn't be given a silent reaction on the world stage. But there is nothing decent about being anti-LGBTQ rights, and that includes the Vice President."
This is quite the story about elderly Trump critics who fear they'll die without ever knowing the conclusion of the Mueller investigation, by NPR's Tim Mak.
A son recounts his father's dying words: "It just was quiet for a little while and then he just sits up in bed halfway and looks at me and he goes, 'S***, I'm not going to see the Mueller report, am I?' And that was really the last coherent thing that he said."
Read the full story here.
Ty Cobb, the mustachioed Washington lawyer who represented the White House in the Russia investigations has some thoughts about Robert Mueller.
"I don't feel the same way about Mueller," Cobb said in an interview with ABC News' podcast The Investigation. "I don't feel the investigation is a witch hunt."
He also said: "In my first nine-and-a-half months … I was able to prevent the president from going on the attack against Mueller. It wasn't really until [Trump's now-former lawyer John] Dowd sent out a critical tweet of Mueller and Rudy joined the team that the president felt unleashed."
In other big 2020 news… Hillary Clinton definitively ruled out a run for president next year.
"I'm not running, but I'm going to keep on working and speaking and standing up for what I believe," she said in an interview with News 12 Long Island.
"I want to be sure that people understand I'm going to keep speaking out," Clinton said. "I'm not going anywhere. What's at stake in our country, the kind of things that are happening right now are deeply troubling to me. And I'm also thinking hard about how do we start talking and listening to each other again? We've just gotten so polarized. We've gotten into really opposing camps unlike anything I've ever seen in my adult life."
Updated

Trump is tweeting again about "PRESIDENTIAL HARASSMENT" and the what he calls "the greatest overreach in the history of our country."
He also claims the Republican approval rating just hit 93%. He is likely referring to Republicans approval of his job performance and not the public's opinion of the GOP, which is low.
House Democratic leaders will this week vote on a resolution condemning anti-Semitism after Minnesota congresswoman Ilan Omar again sparked controversy with the suggestion that pro-Israeli activists "push for allegiance to a foreign country."
The draft resolution "acknowledges the dangerous consequences of perpetuating anti-Semitic stereotypes" and "rejects anti-Semitism as hateful expressions of intolerance that are contradictory to the values that define the people of the United States," according to the Washington Post. But it does not name Omar.
In a lengthy thread on Twitter, New York congresswoman Alexandria Ocasio-Cortez believes that the resolution exposes a double standard and asks why members who make racist, sexist or homophobic comments aren't duly condemned.
And she is not the only Democrat questioning the resolution is a way to silence debate on the issue.
(Earlier this year, the House rebuked Iowa congressman Steve King after his comments on white nationalism and Republicans stripped him of his committee assignments.)
Updated

Good morning, happy Mardis Gras and welcome to our live coverage of the news in Washington.
It is relatively quiet here this morning, save for the fallout from this late-breaking Wall Street Journal report.
The newspaper reported last night that "an attorney for Michael Cohen, Donald Trump's former personal lawyer, raised the possibility of a pardon with attorneys for the president and his company after federal agents raided Mr. Cohen's properties in April, according to people familiar with the discussions."
That conversation is currently being probed by congressional investigators, according to document requests issued Monday by the House Judiciary Committee to dozens of Trump associates, including one of the president's current lawyers and Mr Cohen.
Meanwhile, @realDonaldTrump is atwitter.
He also Tweeted a New York Times story about a patient who appears to have been cured of HIV, though he forgot to include a link to the piece. Apparently Trump believes the "failing" New York Times when he likes the headline.
Congress is back in session today and a vote on a resolution to block Trump's national emergency declaration is expected to pass the Senate later this week. Trump has said he will veto the measure, the first of his presidency. The bill does not appear to have the votes in either chamber to override a presidential veto.
Oregon senator Jeff Merkley is not running for president. Instead he will seek a third term in the Senate. Here's the video of his announcement.
Laissez les bons temps rouler.
Updated