Darwin was the weakest capital city with property values dropping 1.7 per cent over the month and 5.1 per cent over the last three months.
While there had been promising signs last year that Perth prices were levelling out, the latest data showed the city's downturn, which began at the end of 2014, has had "a second wind", with prices falling 1.5 per cent in February and 3.5 per cent over the rolling quarter.
Perth prices have now fallen 17.8 per cent since they peaked four years ago.
"Labor markets in Perth have really weakened, and in WA trend unemployment is 6.6 per cent – the highest since October 2016 – and jobs growth is fairly benign. The overlay of tightening credit conditions is compounding the problem," Mr Lawless said.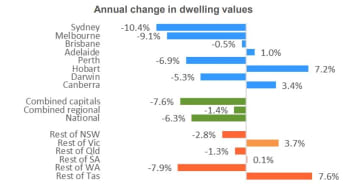 The tightening of credit, a key driver of the slump in prices – particularly in Melbourne and Sydney – is showing no signs of abating since the banks' lax lending policies were thrown into the spotlight during the banking royal commission last year.
January recorded the smallest monthly increase in credit growth of just 0.2 per cent since July 1984, RBA figures on Thursday showed. On an annual basis, investor credit grew at a record low rate of 1 per cent.
"The most concerning thing is that owner occupier credit growth is losing pace quite sharply, which is really why we are seeing this downturn become more widespread," Mr Lawless said.
"Investors are roughly half the size of owner occupiers in terms of the value of loans, so the slowdown of the owner occupier credit it much more significant to the market."
Even the markets that recorded positive price growth over the year have now run out of steam.
The property market in Hobart, where values grew 7.2 per cent annually, slowed to 0.8 per cent growth in February and 1.1 per cent over the last three months.
In Canberra, prices were flat over the rolling quarter but fell 0.2 per cent in February. Property values in Adelaide remained flat.