A number of shots were fired during a fourth night of disturbances in Derry.
He said that around six shots were fired striking the city's walls and trees in a "blatant bid to murder police officers".
Chief Inspector Neil Beck said petrol and paint bombs were thrown from the nationalist Bogside into the loyalist Fountain area last night.
Two police officers and a woman bystander were injured disturbances in the same area on Monday night.
A number of arrests have been made and police have appealed for calm.
Chief Inspector Beck said: "I am appealing to those with influence in the area to please assist us in trying to bring this unnecessary and unwanted violence to an end.
"This isn't wanted by the community and those involved are urged to cease this activity immediately".
Separately, a controversial loyalist bonfire that a High Court judge had ordered to be reduced in size has been lit ahead of time.
The huge pyre in east Belfast was set alight in the early hours this morning.
The Bloomfield Walkway bonfire was one of hundreds across Northern Ireland due to be burned late tonight as part of the annual Battle of the Boyne commemorations.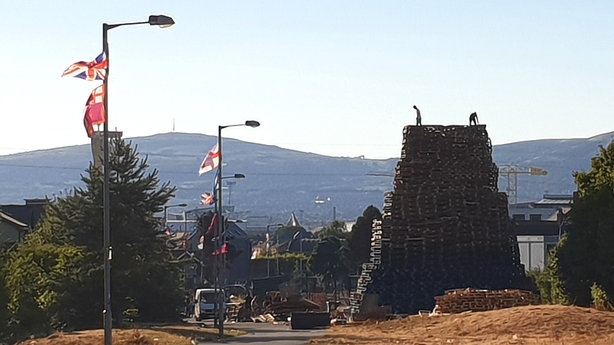 But it was ignited almost 24 hours early amid a tense stand-off between police and loyalist youths.
More than 100 police in riot gear were on site overnight.
The episode unfolded after the judge's decision at Belfast High Court yesterday evening.
The bonfire has caused controversy in recent years due to its proximity to houses.
Yesterday morning, Belfast City Council urged the bonfire builders to remove excess material, saying it had been measured and it was too tall.
The council applied to Belfast High Court for an injunction to force the Department for Infrastructure, which owns the land the bonfire is built on, to reduce the height of the bonfire.
Mrs Justice Keegan directed the department to take immediate steps amid claims the controversial 80 pallet-high construction poses a serious threat to surrounding homes.
In 2015 more than 50 homes close to the Walkway bonfire were boarded up to protect them from the heat generated when it was lit.
The site of the bonfire had been moved in the last two years amid community concern about its proximity to houses.