We did not have one of those unique welcomes to greet Eddie Howe and his gentlemen of the south coast. We did not have enormous crowds on the surrounding roads behind segregation barriers. We did not have Bournemouth sending for another carriage to take them home. After this game, we probably will not have Peter Moore, the chief executive, proudly retweeting posts from independent surveys which reveal Liverpool supporters as being the loudest in the land.
A spring evening made it feel like a moment for Pimms and lemonade on the boundaries of a village green. The buses displaying town names from many areas of the country snaked all the way around Stanley Park and out into Walton. Only a few had come from Bournemouth. Families from those other places held hands as they practically skipped across the fields wearing replica shirts. If Manchester City felt like a religious festival, this was more like a church fete. From the bandstand behind the Kop, a singer with a beard whistled out Wheatus's version of Little Respect. Had babies cried in the quieter moments inside the stadium, you'd have heard them.
Different days of the week. Different kick off times. Opposite atmospheres. Same venue. Same outcome. Same scoreline. It is often said that Liverpool will need the atmosphere at Anfield to consistently be more febrile if the club is to win another championship. It is surely Liverpool's six home draws this season that has cost them a genuine shot at challenging City, after all. Yet Liverpool are also now 19 unbeaten – the only team in the Premier League to go undefeated at home. It feels like Jürgen Klopp is gradually fashioning a squad that can get by when all is it not quite as lively around them, as well as one that thrives in the hostility of any environment.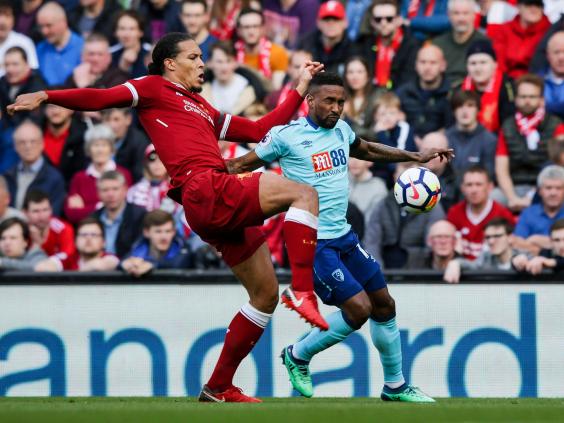 Virgil van Dijk clears under pressure from Jermain Defoe (Getty)
The star of the Klopp era is this well-oiled team. In normal seasons, Roberto Firmino, James Milner, Andy Robertson and Alex Oxlade-Chamberlain would be candidates for the player of the season award, even though three of them have only really emerged in the second half of the campaign. It changes things that Mohamed Salah has been there throughout, of course, whose commitment towards goalscoring throughout has been puritanical. Here, his arcing header from Trent Alexander-Arnold's second gorgeous cross of the day ensured he became only the third forward in Liverpool's history to score 40 times in a campaign. Salah's company is legendary. The other two? Roger Hunt and Ian Rush.
Liverpool's lead had been established in the seventh minute, though it could have been established earlier had Salah's accuracy not abandoned him from the first of those Gerrard-esque Alexander-Arnold deliveries. Instead, the advantage followed from another cross – this time from Jordan Henderson. Henderson's creative output feels like it has improved since the signing of Virgil van Dijk because he knows as the holding midfielder, he can drive further up the pitch and hold there, with the enormous Dutchman marshalling behind him. His curving pass came from a right of centre position. In converting at the second opportunity, Sadio Mané ensured that for only the third time since 1990/1991 Liverpool's top three league scorers have reached double figures for the campaign.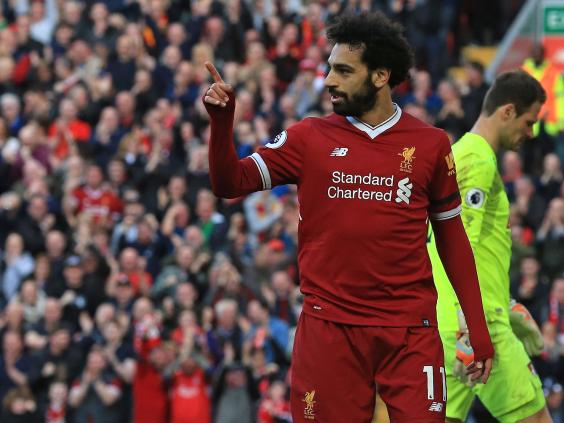 Mohamed Salah has now scored 40 goals in one campaign for Liverpool (Getty)
Mané's confidence is returning at just the right time. Confidence is coursing through the veins of this Liverpool side and it will be difficult to stop from this position, where the momentum is with them. You know this is a fact when you see Alexander-Arnold, the 19-year-old right back, seizing the opportunity to take a direct free-kick at the expense of Salah, who was brushed away even though he will become a Golden Boot winner if he carries on scoring.
Salah was having an off-day, his touch not as tight as usual, his shots sometimes rushed. Players do this when they are at the very top level, though: they still score. In truth, the rest of his team-mates were sharper and this defined Liverpool's absolute control of the event. Their dominance was truly reflected when Firmino – outstanding again – made Asmir Begovic think he was going to shoot one way but fired in the other direction to make it 3-0.
Liverpool vs Bournemouth – player ratings
Chelsea have Liverpool to play at Stamford Bridge and they can still overhaul them. But for that to happen, Liverpool's form will have to collapse while Chelsea will have to deliver perfection every game. Because of their goal difference, Liverpool will probably need to take only five points from the remaining twelve available to ensure back-to-back Champions League campaigns for the first time in a decade. But then, Liverpool have a European semi-final against Roma in ten days' time. They might still yet have to go to Kiev as well. The possibilities are mouth-watering.
Follow the Independent Sport on Instagram here, for all of the best images, videos and stories from around the sporting world.
Reuse content