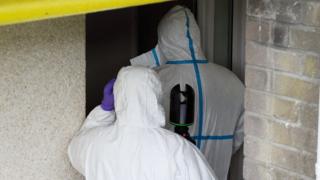 Three men have been charged with the murder of a 54-year-old whose body was found at a flat in Caerphilly county.
David Gaut, formerly known as Tracy David Gaut, was found in Elliots Town, New Tredegar, on Saturday.
A 47-year-old, 23-year-old and 51-year-old, all from New Tredegar, have been charged with murder and will appear in court on Thursday.
Gwent Police has not said whether David Gaut was convicted of murdering a 17-month-old boy in Caerphilly in 1985.
News reports from the 1980s say a man of the same name was jailed for life.
Newspaper cuttings from the 1980s report a man called David Tracy Gaut, then aged 20, was jailed for life for the murder of his then-girlfriend's son, who was called Chi Ming Shek.
The 1985 trial at Cardiff Crown Court was told the boy's mother had left Gaut to look after her two young children while she went for a night out.
The next day she found her son's body under a chest of drawers in his bedroom.
The boy, who was also known as Marky, was badly bruised in the groin area, chest and forehead.
The 1985 trial heard Gaut tried to make the death look accidental.
But pathologist Dr Owen Williams said the baby's injuries could have been caused by punching, kicking, falling, being thrown or a combination of these.
Prosecutor Aubrey Myerson QC said, while the boy's mother was out, neighbours heard loud noises, including banging and crashes.
The boy died of multiple injuries including a broken arm, injured liver and spleen and a fractured skull.
During sentencing in 1985, Mr Justice Caldfield described the torture and murder of the toddler as "the worst crime in the land".
He added: "The person murdered was a defenceless little baby and on the jury's finding you not only murdered that child but also tortured him."
The three murder accused will appear at Newport Magistrates' Court on Thursday morning.