Patricia Torres reports from anti-government protests in Caracas:
Milagros Ortiz, 45, a doctor who lives in Catia, an area that was a traditional bastion of support for Hugo Chávez, said with tears in her eyes that in the hospital where she works, there wasn't enough medicine this week for a patient running a fever of 40C (104F).
She was sitting by the border fence of the Carlota air base, but said she wasn't afraid of the soldiers, she was afraid her patients would keep dying.
"I'm afraid to keep living this nightmare," she said. We don't have medicines, we don't have food, we don't have security."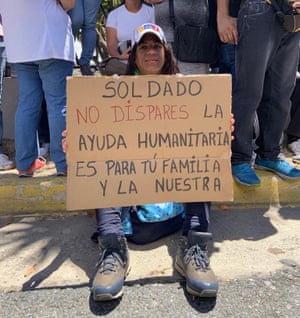 Ortiz said she didn't blame the soldiers. "They are not responsible, they are getting their orders from people who are corrupt."
Legislator Manuela Bolivar asked people to stay calm and not to attack the fence around the base. She also told the protesters that if the military ask them to clear the area they should obey because "we don't want violence, we want peace. Violence is not part of our plan."
Student Julio Cesar Ramos predicted that military forces would soon join the opposition. "This is a critical moment. There are many of us, and I am sure that they [the soldiers] are going to come over to our side," he said. "They are young, like me, and I ask them today to join us on the right side of history, and not make themselves responsible for the mistakes of their bosses."
Andrea De Jesús, 30, an accountant, said her nine-year-old son who has Hunter syndrome has not received treatment in a year. "I'm here because there are so many families, that like mine, need medical help. Children are dying and we need the aid to come into the country now. I would beg the military today to please put their hand on their hearts. This isn't about politics, it's about human lives," she said.
Many of the people marching were dressed in white, or wearing the Venezuelan national colours of red, yellow and blue. They carried banners and placards with messages begging for the passage of humanitarian aid.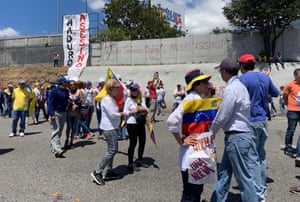 They shouted "Yes he can" and "We are doing well". A huge crowd walked over 2km from Altamira district to the Carlota military airbase.
Five police officers at the outskirts of the rally, who didn't want to be named, said they didn't plan to suppress or control the demonstration, but they were worried because they were sure that intelligence operatives were undercover in the crowd.